About Me
PetSteps Dog Training was inspired by a very special shelter dog name Dumbo (now called Bo). I started out as a shelter volunteer brushing and walking Bo and his other companions. My first memories of Bo are of him hiding in his crate, too afraid to come out. After some time we managed to go for walks, or more accurately, tug of war competitions, and he slowly started to understand that life wasn't so bad after all. Weekly visits made a special place in my heart for Bo and after two failed adoptions I decided he must be waiting for me so I officially adopted him! After a "mid-life crisis" I decided to quite my engineering job and work at the shelter full time as a Kennel Attendant. My love for dogs and my true calling only grew from there.
I soon decided that dog training was what I wanted to do and signed up for Animal Behavior College's Dog Training Program. Bo was of course my first student and he was very patient with me as I learned the tricks of the trade. I then rescued another shelter angel in 2010 and opened PetSteps in April of 2011. The rest is PetSteps!
After leaving the shelter I obtained my Certified Professional Dog Trainer - Knowledge Assessed certification to become the only CPDT-KA in Fort McMurray. My next adventure and pursuit of animal knowledge is enrollment in Old College Animal Health Technology program starting on July 7, 2015. Providing my clients and their pets with the best and latest information and techniques is very important to me and I believe that you can never stop learning and imporving.
Qualifications
RVT - Registered Veterinary Technologist
CPDT-KA Certified Professional Dog Trainer - Knowledge Assessed
ABCDT - ABC Certified Dog Trainer - with Honours,
ABC Continuing Education Certificate - Training Shelter Dogs
CAPPDT - Member of Canadian Association of Professional Pet Dog Trainers
APDT - Member of Association of Professional Dog Trainers
Veterinary Assistant Certificate
Pet First Aid Certificate
ASPCA's SAFER Aggression Assessment
Bachelor of Science Degree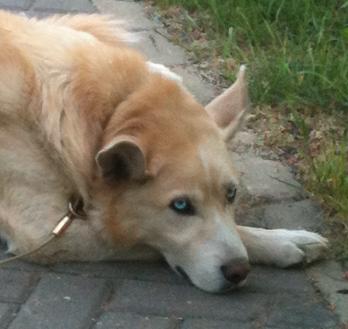 Experience
I have worked full time with shelter dogs since early 2010. This included taking care of everything from basic care, health evaluations, training, behavior assessment, teaching staff and public, developing proper animal handling procedures, and behavior modification. Since April 2011 I have also helped many clients work through a variety of issues from basic puppy training to adult dog manners to house training issues for all ages to some levels of fear, reactivity, and anxiety issues. Some times owners mistake really bad manners, fear, or lack of life skills for aggression and I can definitely help identify and fix this problem.
Dog Trainers Versus Animal Behaviorists
To put it into human terms, a dog trainer is like a teacher, coach, or personal trainer. An Animal Behaviorist is like a psychologist or psychiatrist. Animal Behaviorists deal with more in depth mental problems such as aggression, separation anxiety, chronic house soiling, destructive behaviors, fears, phobias, and obsessive compulsive behaviors... or in other words, how a dog "Feels". Dog Trainers on the other hand deal with more routine problems such as barking, jumping, poor recall, and other basic manners, or rather, lack there of! They deal with what the dogs "Does". Animal Behaviorists will normally have a degree in Animal Behaviour, Psycology, or Veterinary Medicine, etc. Dog Trainers may have no official certification, or preferably like me, have gone through a reputable program like the Animal Behavior College's Dog Obedience Instructor Training Program. Teaching a dog good manners can sometimes help to address other issues as well, however, they are not always one and the same.
Be wary of dog trainers that "specialize" in significant behavioral issues without the proper credentials.
Short Resume
I am a semi-retired Professional Engineer that decided to try something new in life! I worked for almost five years at the SPCA while train ingdogs privately, part time, on the side.
Engineering Industry
Problem solving/trouble shooting
Procedure development
Teaching/mentoring
People Industry
Coach for the Fort McMurray Rowing Club
First Aid Certified
Dog Industry
Taught sign language to a deaf dog
Teach staff proper dog handling and body language reading
Develop customized house training programs
Work hands on with "difficult" dogs
Evaluate new shelter dogs for temperament and aggression
Teach dog walking clinics
Own two special rescue dogs
Books Read, DVD's Watched
Please note that I do not condone all of the training techniques in all of these books. Part of a good education is knowing where we've been so that we can select the best path forward and continually apply and learn the latest and science based techniques.